November 22, 2021, Toronto ON
Data Drives Commerce.
A decade ago, Netflix already understood that data was the driving force behind its media-distribution success. Quality of content, plus the number of people watching was its simple formula. Content was king until the floodgates of consumer choice burst open. Through streaming and digital technology, data far outpaced content. Today, data is the fundamental building block of commerce.
Data is the "action" that provides the "insights" that drive real change and validate media investment. The old adage still holds true—"You can only manage what you can measure". There is a growing acceptance of and an appreciation for data; and companies who fail to embrace true data may not thrive in a changing world. Now more than ever, companies cannot afford to be wasting media dollars.
Even the best advertising content can fail if it is misaligned with time, place, or audience. Companies build purposeful ads and then wonder if the ad worked or if the creative work triggered a conversation or a sale. Now media measurement can take the guesswork out of the equation.
Technology has redefined locational media measurement. Anywhere people engage with media, indoors or out, are measurable, and anything that influences consumer activity for brands, products, and services, is media. From digital and static images to ambient sound and lighting, from billboards, to flyers, or an entire campaign, from an individual product to a planogram, or the entire store location itself, can be measured.
Not all data is created equally.
Building a better customer-centric data resource is part of a step-by- step process, utilizing come-and-go traffic from both Mobile Location Analytics and Video AI. Together they provide a comprehensive understanding of visitor activity and what influences and drives sales in parallel with considerable gains in staffing/labor efficiencies and media accountability.
Establishing a baseline.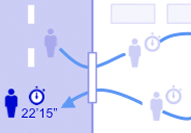 Businesses with little or no data, locations that are failing, and those searching for potential real estate sites need to establish a baseline for a clear understanding of customer visitation and patterns at the location. With qualified first party mobile data, opted-in data can be extracted for several years. It is crucial to consider how customers engage with the location, and estimate their recency and frequency of visits. Every customer count begins as a new customer until there is a realistic come-and-go visitation baseline. Every location varies--movie theatres may have customers visit twice annually, malls may have customers visit monthly, and grocery stores may average customer visitation once or twice a week.
Mobile data is an effective way to establish visitor trends as it can report retroactive, factual evidence. Once determined, there is an ability to apply common evening clusters to view where customers are coming from, and where they are not coming from. Mobile data can be utilized to create a baseline for time, location, and internal heat map points, as well as discovering an external lookup of customer location. Aligning the demographics enhances media strategy and eliminates waste.

Internal – 4 walls
Internal locations should be treated as media assets where every touch-point of design and marketing is focused on the customer. Firms like SLD build customer-centric retail design validated with data and design choreography for user-driven insights, meticulous strategies, and digitally-immersive experiences.
Location data beyond the visitation baseline, is critical complete and to understand the in-location journey analysis of visitors. Existing sensors, WiFi, and video-AI can be utilized for anonymized, absolute counts. Digital playlists can relate content playing at any given time and place; it can be linked to other zones, to help reveal sales attribution from the locational media—for example "Ask our tellers about our new, high-interest savings package. "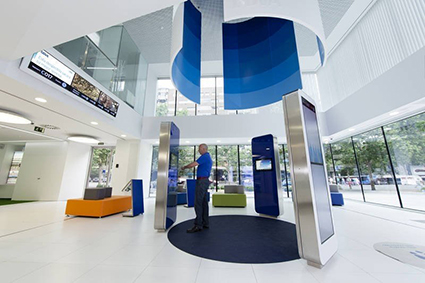 Internal media touch points can stimulate a powerful and relevant customer experience, whether the purpose it is to educate, reward or entertain JohnRyan, the retail marketing agency and leading digital partner provides the strategy, technologies, content, and execution to optimize customer communication and experience. Data measurement can help validate the operational value, such as appointment setting, and customer attentiveness.

External –Maximize new customer growth & visitation returns
Visitor data is fundamental to revealing attribution insights where -- location visits represent conversions to marketing channels. by connecting media GPS/lat-longs with a form of confirmed visitor proximity of a unique identifier from mobile, APP, or WiFi. This allows a timestamp against the media location as part of a campaign. By implementing a privacy-centered form of anonymized token to such I.D's, advertisers can discover longer exposure to specific media and reference that to their ideal end locations as conversion points. Some mobile data sources may only ping to that location daily, vs WiFi or Apps set for seconds or minutes, but that data can still be used for static media Out-of-Home.
An exciting aspect of opted-in, first-party, mobile data is the ability to see anonymized, common evening clusters. This reveals critical information of the source of the customers, and critically, the areas lacking customers. Therefore, a flyer drop or a media impression will help validate a new or returning customer, tied into internal context.
Connecting your marketing media:
When media becomes data-centric, and ideally digital, and the operational location ROI has been established, there is the possibility of connecting to smart media networks. This is placed-based media that has been reinvented with technology such as supply-side or programmatic platforms.
Digital place-based media is addressable, electronic, OOH screens that change advertising content remotely, excluding roadside digital OOH media such as billboards and bus shelters. Digital place-based media includes a broad range of content including static messages and full motion video. The true power of what this means for programmatic OOH is more contextually delivered by adding third party data insights to trigger and measure campaigns. This additional targeting could come through linking a buyer's bidding decisions into inputs such as weather conditions or perhaps stock and footfall levels in a particular store, according to Block. Plan campaigns around recognizing when the right audience is in front of a screen, plus added trigger data.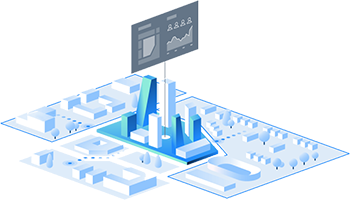 Data to trigger relevancy.
A strong customer external and internal data asset unlocks the capacity to connect to smart media inventory with Programmatic out-of-home (OOH), which is empowering advertisers to reach targeted audiences at prime.
Measurement evolves with privacy at its core
Privacy regulation continues to evolve. The industry faces a complex challenge — regaining and keeping consumer trust. There's a conscious effort and trend towards consumer transparency, and that's not going away. We need to do a better job of explaining that the data individuals share is part of a mutually beneficial value exchange that's essential to serving consumers better.
As consumers engage across media — they opt-in, log-in, subscribe — and identify themselves in different ways. This data can be used to build and scale the appropriate audiences to improve analytic accuracy and to understand which tactics are moving the needle on business outcomes. Advertisers should only use measurement solutions with privacy at the core to ensure the delivery of a seamless customer experience on the individual's terms.
The bottom line—Data is everything
Attribution modeling holds very little weight if it's based on blind guesses. That's why it's crucial that a company's data is managed in a systematized way. A simple model for physical locations should mirror online. Treat your location like a webpage, and your external marketing like banner ads on other connected web pages with the ability to measure activity, media exposure and location-based visits as if they are click thrus on every customer journey map. In today's world, the more you can see across the customer journey, the better the decisions you can make, from choosing what creative assets and channels drive your best sales or building new customers.
It is never too late to improve your data the action for your business and marketing.
---
OPTiFi is an unbiased, media-driven data utility that makes the connection between people, places, and ads. It is an open technology designed to collect and audit passive-anonymous data services from WiFi, wireless, and mobile phones-- base-lined for each client's ideal usage benefit.